by Mark Waters

I just want to start by saying this 2007 T'Wolves team is going to be terrible. But that's completely acceptable. I know the interest is down for most Minnesota sports fans, but I'm very excited to watch these youngins come together. I figure I'll do some get to know 'ems and discuss other reasons as to why I think my favorite basketball team has a chance to be a force in the not-so-distant future.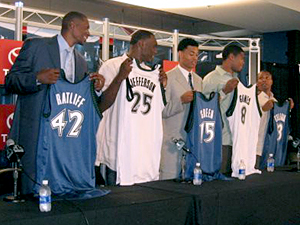 Al Jefferson - Sky is the limit for this PF who helps at Center sometimes. He has already established himself as a pure scorer and rebounder. He's not a shot blocker, but his power and numerous post up moves make him an elite PF for years to come. I can see how he and Mark Blount didn't get along back in Boston. Al Jefferson has a post presence, is good at basketball, and actually works hard. They are polar opposites.

Ryan Gomes - Celtics Writers/Fans/Followers all agree that this young swingman has the potential to be a solid Small Forward in this league. He can quietly put up 15-20 points on any given night, and has a great attitude/work ethic. Unlike Ricky Davis, Gomes will actually make his teammates better. Expect him to score around 15 ppg this season as our starting SF.

Corey Brewer - It will take some time before he becomes a key factor - when he puts on about 15 lbs of muscle, you'll notice. He was one of NCAA's best defenders for the last 2 seasons and is a shooting threat as well as a slasher. He has already received numerous comparisons to a young Scottie Pippen due to his size and athletic ability. Again, it might take a couple years for him to adjust to the league, but he will be a valueable piece to this organization sooner rather than later.



That tie pwns hard^

Rashad McCants - tough call on McCants. His defense has looked better than last season, and has been scoring throughout all of preason. Only 2 games in, it's foolish to make bold predictions on how well he'll produce, but all indications are saying that he should be a legitimate 2 guard. His streakiness as a shooter is my main concern. Hopefully he has cured that, or will cure that as he gets older. The Wolves need him to step up and be one of the leaders this season.

Craig Smith - I love this guy, but he is simply too short to ever become a great player. His scoring ability has picked up where it left off, but he still isn't good enough defensively to be a starter. His role as a scorer off the bench is good enough for a favorable contract extension.

Randy Foye - Injured (which sucks) but when he returns there is no reason why he won't score 15-20 ppg. However, he isn't a true point guard, and this team already has enough 2 guards. Hopefully he can develope into a permanent role as our starting point guard.

Sebastian Telfair - If he can keep his head screwed on, within a couple years, this kid should develop into a fine point guard. This team desperately needs a true point.

Gerald Green - he is only what 20 years old? People have been very negative towards him, already calling him a bust. I'd like to see him get alot more playing time this season, but so far after 2 games he's played a total of 1 minute. Given playing time, he can be an energetic scoring threat.

I don't feel like mentioning Ratliff, Antoine Walker, Micheal Doleac, etc. because I really don't care about them. The're not that good, old, injury proned, and probably wont be on this team next year. Buckner has a chance to be decent, but the verdict is still clearly out with him.

On top of acquiring these good young prospects guess what? Blount, Davis, Hassell, Nate James, and Troy Hudson are no longer on our roster!!!!!!!!!!!!!!!!!!!! All five are losers with terrible, long term contracts. McHale must be smoking drugs...or Hoiberg is playing a huge role in these moves. (more likely the latter)

A 15-25-win team this year will bring in a top 5 pick in what looks to be another deep draft. WIth all these crappy contracts that were bought out, and/or will expire within the next 2 seasons, this payroll will fall well under the cap allowing us to bring in a solid free agent or two to go along with a young, up and coming Wolves team. And I don't buy the "Good luck getting a free agent to come to Minnesota" crap. If you can pay them and you have a good team, they'll play in Mystery Alaska.

Come on Fair-Weather Minnasodah Rubes!!! Jump back on the T-Wolves train, cuz a few years from now, we're gonna be a serious contender. We're coooommmiinnnnnn!

I hate HTML-ing a bunch of links in my posts cuz I'm too lazy, but here's a crappy link to the wolves roster/stats