Granted, there are plenty of tremendous, gracious, agile white guys in the NBA. Steve Nash and Dirk Nowitzki have taken home multiple MVP's over the past several years. But let's face it. White People are < Black people at basketball
+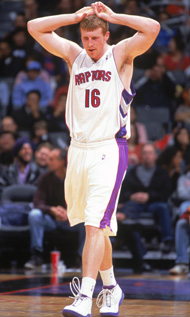 =
Brian Scalabrine
Listen to him during the first minute of this press conference. Who says this? Especially when you're the 10th man on the team?
here's a song I found about him when surfing youtube. I laughed.
Mark Madsen
I know he's a really great person and too easy of a target, but seriously. I still laugh every time I see this video. Just watch it again for the 50th time. I promise you'll still laugh.
I told you.
Brian Cardinal
I remember when this guy played for Purdue. At the time I thought he was 32. Now he gets to launch 3's in a Timberwolves Uniform for one more season. Thank god the 'ol contract is expiring.
Kyle Korver
Wally Szczerbiak
Known as the slowest man in the National Basketball Association, Wally would make a great fit as our go-to wingman. I love how he's one of the only people in the NBA to throw down a dunk, then have the announcer react by laughing out loud.
Marco Jaric
I mean look at his face. It looks like somebody photoshopped it, but this is an unaltered photo. Who needs cap space and future first round picks when you can have this cat-like point guard anchoring your bench?
We've grabbed some players, now lets get some suits.
Head Coach,
Randy Wittman
I couldn't possibly sum up everything related to him and this organization (at the time) any better.
GM,
Kevin Mchale
Man, just look at this asshole. Way to represent everything I dislike about Minnesotans.
Unfortunately, these days are long gone. Now we are stuck with a GM who makes thought out, calculated decisions. Most of them even make sense, too.
Owner,
Glen Taylor
I'm really looking forward to the constant growth of my ears. If he wore a newsboy hat he could be
Brian Johnson
for Halloween.
Commisioner,
Bud Selig
This guy would make a terrific Commissioner. It's unfortunate that David Stern is capable enough to dress himself in the morning, otherwise he'd be the guy.
The greatest thing about this blog post is that the Timberwolves have previously had 7 of the above, and are quite possibly about to add the eigth.
BRING BACK MCHALE
^sarcasm